Breaking Down To Build Up
Construction at Lawrence Central is raising students,staff,and parents: When will it be finished? What's the new building like? How does it flow with the old part of the school? In a recent interview with the principal of Lawrence Central High School, Principal Bush had an answer to all of those questions.
According to Mr. Bush, Dr. Shawn Smith, superintendent of Lawrence Township schools, and the school board members were thinking of ways to advance our  schools and benefit the community. Dr. Smith had a vision and brought together a small team to make it happen.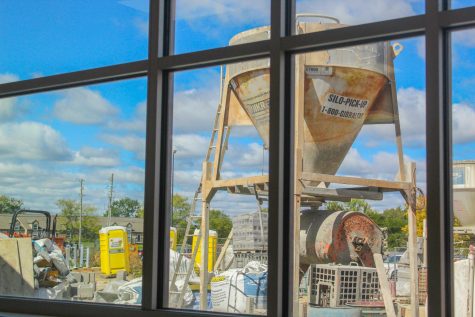 The new, three story edition of the building at LC was finished in the summer of 2022 and welcomed students in August. Many senior students stated  that it was a lot easier to learn and get around before construction  started. Arielle Schultz, senior, has been here all 4 years and stated that she "would like to see what it's like when finished as opposed to before construction started."
The new edition at Lawrence Central features many new spaces like the three new commons areas, where students gather and talk with friends. To fill those classrooms, whiteboard desks, chairs,podiums, bookshelves  were ordered over the summer. "We wanted nice multipurpose desks and chairs," said Mr. Bush.
While it was worth it in the end, construction did and continues to cause problems such as noise, hallway traffic, students hiding in construction areas, and parking.so much so that Mr.Bush says "he just wishes he could snap his fingers and it will all be done and beautiful."
The destruction of the old offices and freshman center on August 4,2022 earlier this year caused some concern about the safety for students.Students were walking in the building on the first day of school as it was being torn down.The concern for the safety of the students has died down and now the chances of anything happening to students are slim to none.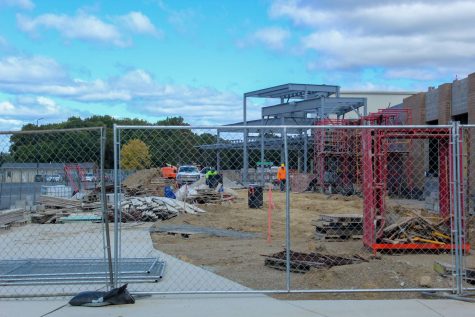 The battle with construction has been going on since May 2020.So far in November of 2022 Lawrence Central has a new, three story edition and a new cafeteria to list a few things that have gotten finished. With the new cafeteria, It's now combined with the stations of food . Although there is so much being done and left to do, construction is making great headway to the finish line.Expected to be finished in May of 2024.